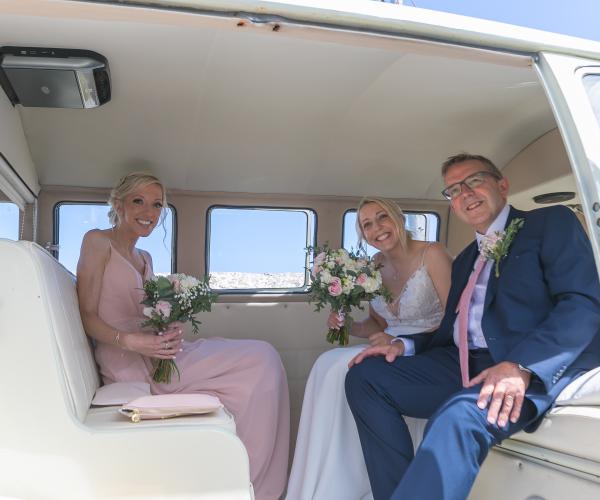 What to Expect from Cornwall VW Wedding Hire
We don't do things by halves here at Cornwall VW Wedding Hire. Consequently, you need to expect nothing less than punctuality, well dressed and friendly chauffeurs and stylish wedding cars operating throughout Cornwall.
So lets break down how it works;
You place a booking with us. we respond with written confirmation and booking form details. Just fill them out and return them in the pre paid envelope provided.
Ok, so before you know it the wedding date is a month away and you have a hundred and one things to worry about. This is where we try to take away the worry in the wedding cars department. You can expect us to give you a call, run through your wedding transport plans, colour theme and timings. Just to reassure you further we give you another call a few days prior to the wedding just to clarify there have been no changes.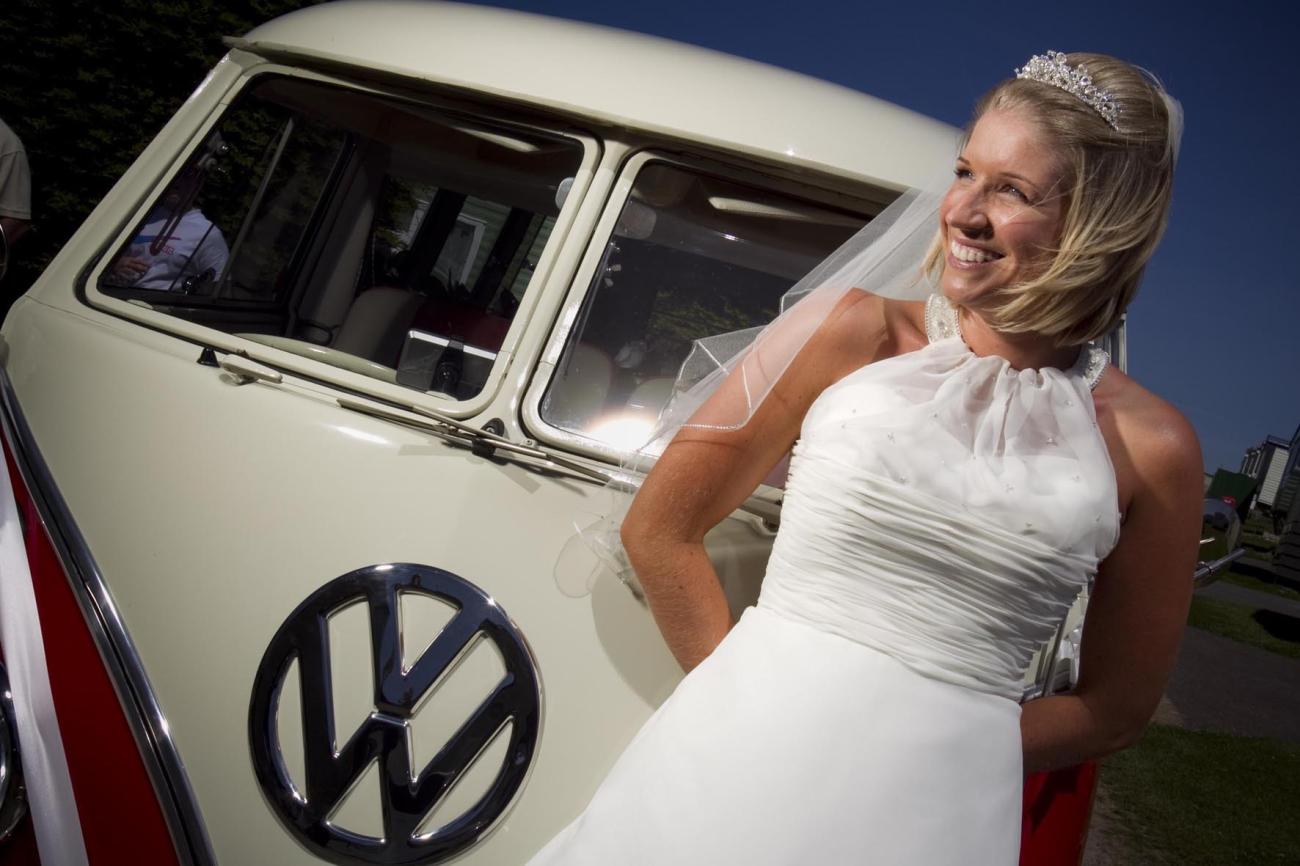 On the Day
Punctuality is key! We always arrive prior to our agreed arrival time. We factor in traffic and unexpected delays, which often occur in Cornwall, so we get to you on time. Here at Cornwall VW Wedding Hire our philosophy is simple-we just want to offer relaxed, stylish wedding cars which provide smiles wherever we go.
The chauffeurs wear smart, formal suits.
As we have stated we want to offer relaxed, stylish wedding cars, and the same applies to the chauffeurs. The hats and gloves are old hat and just dont fit with our philosophy, or the cars, but expect formal suits and service. Despite our passion for Volkswagen campers and beetles, for us its more than that, we love the weddings and helping every couple to cherish every moment.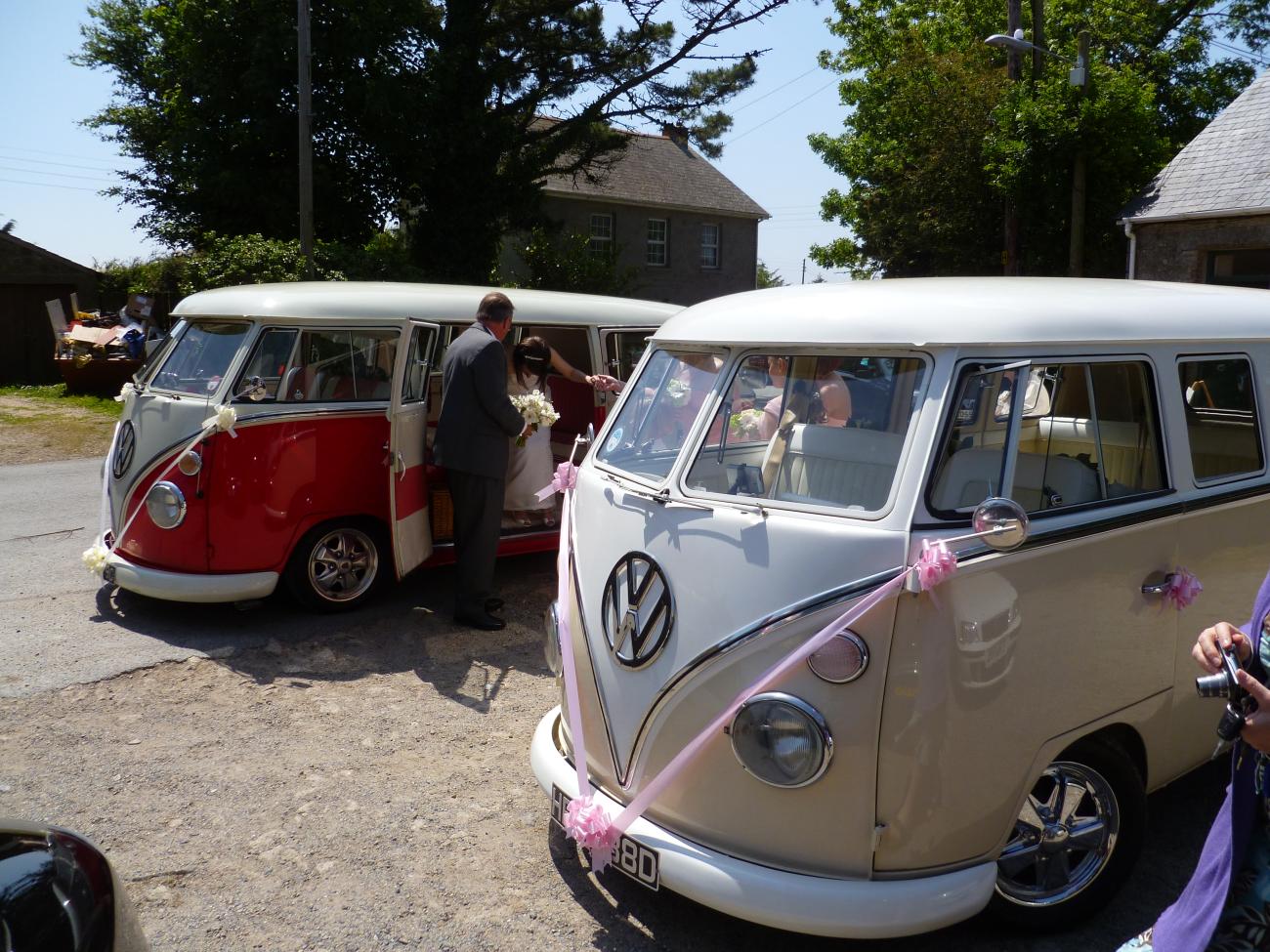 The Vehicles
The vehicles, well, where do we start?
Romeo & Juliet- the VW wedding campers that have it all!
These vw splitscreen wedding vehicles are truely immaculate and turn heads everywhere they go.
Romeo, coated in a glowing red & cream colour, has a certain unique style. Not only was it the first red VW camper to be used as a wedding vehicle in Cornwall, it just oozes class and refined luxury. You open those side doors and are greeted with a bottle on ice and music, if required. In fact, most of our vehicles have an ipod facility capable of downloading any music preferences for your special day.
Juliet, our newest camper addition , in a fine ivory and white colour scheme, takes travelling in luxury to new heights! This is no cheesy limousine ride with flashing lights and tacky mirrors. You can expect nothing but class and it has its very own rear cream and white curved seating area like nothing you have seen before.
Adam - The VW Beetle to remember
A refined, classic cabriolet Beetle, Adam, is thought to be the only one of its kind in Cornwall (and Devon for that matter!) It comfortable sits three people and the rear can fit the bride and dad (including dress!). With the roof down on that summers day or just for photos this is a fine choice which often compliments the VW campers winding through the coastal villages in Cornwall.