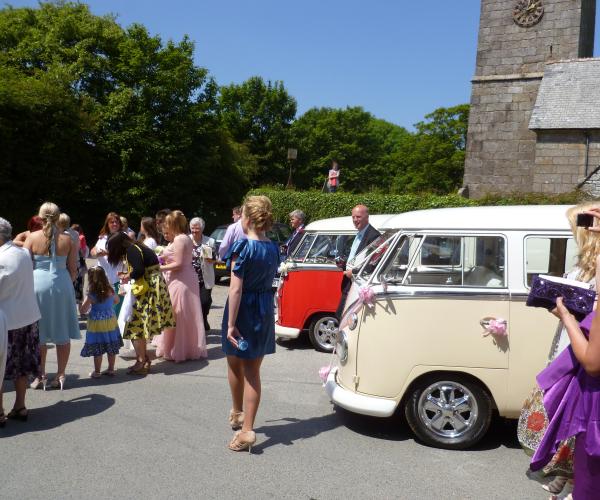 Wedding Awards
Wedding Transport Mission Statement:
Cornwall VW Wedding Hire is a small, family run business which specialises in supplying high quality, unique and stylish wedding vehicles to couples of all ages on their wedding day. The priority is fulfilling clients needs, ensuring they reach their destination punctually and safely in well maintained, road legal vehicles. There are five vehicles in the fleet consisting of Romeo & Juliet, two VW Splitscreen campers, Adam & Eve, two beetle convertables and Mustang Sally, a1966 Ford Mustang. The transport service includes up to 4hrs chauffeur driven hire, incorporating clients specific needs throughout Cornwall.
Our mission
"to inject fun, style and innovation into the wedding vehicle industry."
"to inspire value, creativity and happiness and create a long lasting, personal wedding day memory"
Our vision
to increase awareness of Volkswagens and become a market leader in providing unique wedding transport throughout Cornwall
to ensure growth and sustainability over the next five years through long term re-investment into new vehicles and advertising
Customer Comments
If as we you were looking for something a little special and not the norm with regards to a wedding car hire I could not recommend Cornwall VW wedding hire enough. Darren along with his immaculate VW offer a totally unique experience that totally captures the spirit of Cornwall. A spirit that drew us from Essex to be married in the county. The service and attention to detail was flawless from start to finish and nothing was too much of a problem. They should absolutely be recognised for their service.
Just a fantastic aspect of our special day. We were so pleased with Darren and his little Van. Professional yet so friendly. Simply amazing!
Darren at VW Cornwall wedding hire was the star of the day! Proffessionl,friendly and extremly accomodating.I must say my Husband had reservations of spending the money,as our location was minutes away from where I was being picked up but Darren chauffered all our guests at the house and then after the service Kevin and I went for a lovely fifteen minutes drive to have some space and calm down a little with some champagne. Kevin was glad that I convinced him to go ahead.The camper van was beautiful and the guests were amazed that we had hired an unsual form of transport and all agreed it was perfect for the setting so close to the see.Some of our photos were centred around the van and they are great fun. The bridesmaids and page boys loved having their photo taken' pretending to drive'.
Made my wedding day that little bit more perfect.
The cars were a really important feature in our day, we got some great photos with them and as VW enthusiasts it was really important to us that the cars were perfect. The service was great, as was the price. I would have no problem in recommending Cornwall VW Wedding hire to friends in the future. Just brilliant! A deserving winner!
darren saint was brilliant from the day we met him at the glendorgal wedding fair, he was helpfull kind and let us pay by installments, brilliant service all round, only thing he couldnt do was make the sun shine, without a doubt i would recommend this company :D
Amazing service, stunning VW! We were so impressed with the service, even making a stop off so that I could use the ladies in my huge wedding dress! Loved the champagne too. Oh they even gave us extra ribbon when the one we had for the other car was too short. They deserve to win!!!!!
They did a fantastic job looking after our son's wedding at very short notice.
Excellent service and a magic touch for the wedding. We were very glad to find them and very happy with the service they provided. Good service, nostalgic vehicle well kitted out. Thank you,
Such a professional yet friendly service, the van was immaculate and everyone at the wedding said how it really added to the whole occasion, I can highly recommend them.
Cornwall VW Wedding Hire were fantastic at our wedding. We believe they were really good value for money, their service was fantastic and the quality of both the cars we hired was great.
Amazing guy. Friendly service and happy to gp out of his wsy to make a very special occaision. Very easy to communicate with despite making our arrangements from Russia. Really perfect and the VW became a lasting theme from our wedding for our guests.
Darren of VW Wedding Hire was great - super efficient at getting back to us when we were planning, he turned up in plenty of time on the day and was generally a really nice guy to have around.
fantastic service, fab cars and a great discount for haveing both the van and the beetle.
I really cant say enough about this company. They were fantastic! From matching the colour of the ribbon on the car with our wedding colours to the lovely driver and champagne! They were so helpful, even suggesting places we could stop to have photographs taken on the way to the reception as were not from the area!! And of course, the car itself was perfect! They really could not have done any more for us and in my humble opinion, are very deserving of an award!!
FANTASTIC service!!!!!!! Cornwall VW wedding hire made our day unique - everybody loved the van including the people on the streets of St Ives who were stopping to take photos !! Darren couldnt have been more helpful before the wedding and on the day. He and his super cool VW camper made our wedding day sooooOOOO special! We would recommend their service to everyone!!!
Very professional service offered and at a very reasonable price. Would definitely recommend them and loved the car, it was great!
The camper van turned heads and me and my bridesmaids were made to feel really special Outstanding. First class co-operation in all respects. Car and driver immaculate and right on time. Flexible and adaptable. Good value. Would not hesitate to use again.
An excellent company with a commitment to your wedding from start to finish. The vehicles are beautifull. Every detail we asked for was forfilled. Worth every penny!
Brilliant service, friendly helpful people, great value for money , highly recommend this service in the future. Everyone that attended our wedding are still talking about the camper van this company deserve some great recognition for the outstanding work and service they provide.
Darren made our day very special, he arrived promptly nothing was too much trouble he took us to have photographs taken at St Michael's Mount did batle with parking attendants to make sure the pictures were just what we wanted and got us to our marriage location in good time!!!
Afterwards drove us round to pose and then to the reception and home fab van fab driver!!!
Basically he made the whole day absolutely perfect, a day never to be forgotten.
We received a very professional service and the drivers were both very friendly and accommodating as well as professional in their appearance. We paid a very good price for the two vehicles and for the amount of time we were able to have the vehicles at the venue for the purposes of the photos. My mum and my 2 year old daughter even got to travel in the campervan when we drove to our photo venue! We received excellent communications from Cornwall VW Campervan Hire and they were very understanding when I was forced to change the pickup location a mere 3 months before the wedding! They couldn't have done enough for us and I would not hesitate to recommend them to any friends or family that may be planning to get married in the future.
Darren was a really friendly driver, arriving very smart and working well with the photographer. The camper was beautiful! The champagne was a nice touch and it was nice to get time to ourselves when we were taken to the best photo spots. It was excellent value for money. Cornwall VW Wedding hire helped us have the perfect day!
We would have paid them double for the service they provide on our wedding day, they truely were the icing on the cake, Thanks Guys
Great communication, stress free, arrived very early on wedding day so I wasn't stressed or worried about them getting lost and the camper van was immaculate. All guests loved it too. Darren was smartly dressed, he helped get my bouquet's in the van as well as my dress. He took us wherever we wanted after the church so we could enjoy champagne and views. Could not have asked for more, they were great.
Really finished off the wedding, we weren't going to go with a car but I am so glad we did. They were ace.
The campervan was simply beautiful. It absolutely made our day. Sipping Champagne (Part of the package) on the beach at Widemouth Bay, with the immaculate campervan was unforgettable. On top of all that, Darren Saint, the driver was professional, yet so friendly, and really understood how important the day was. At one time, slipping off to leave us alone in the camper for a couple minutes to chill out and reflect. Excellent Service.