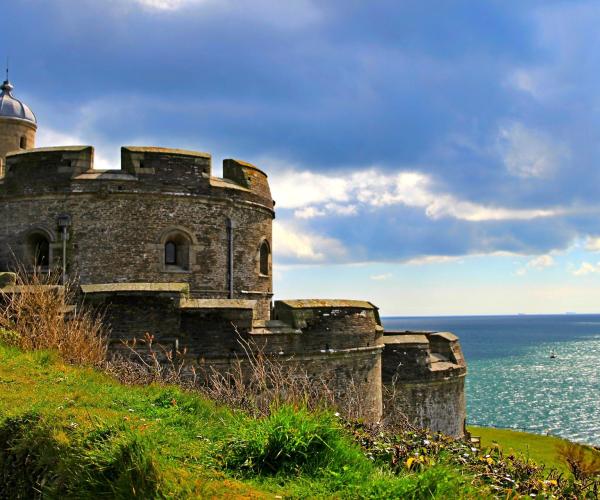 Wedding Cars at Pendennis Castle
Along the Cornwall coast, Pendennis Castle and its colleague St Mawes Castle are stooped in history and were originally constructed between 1540 and 1545. They were built by Henry VIII to counter a threat from France and Spain. In 1598, during Elizabeth I's reign, a new and much larger type of defensive rampart was added around the original fort. The castle was strengthened again prior to the Civil War and played host to the future Charles II in 1646, before he sailed to the Isles of Scilly. It then withstood five months of siege, before becoming the penultimate Royalist garrison on the British mainland to surrender.
Pendennis Castle is now also the home of a collection of wartime cartoons by George Butterworth. Set with panoramic views across Falmouth this sets the scene for that idyllic memorable wedding day at this fine wedding venue.
What better way to compliment this classic romantic setting than to arrive in the finest suited Cornish way of travel-a VW Wedding camper or beetle convertible. These fine vehicles are the compliments of Cornwall VW Wedding Hire and are a fine example of this historic vehicle. – you are in Cornwall after all!
Cornwall VW Wedding Hire have the experience of driving many a wedding couple to this great location. If you wish to take in the nearby scenery, or go for a drive in a VW wedding car, then its no problem. You may even wish to grab your photographer and go to Pendennis point to take some snaps. The great backdrop and sea views (not forgetting VW campers of VW beetles) provide that superb photographed memory of your wedding day.
Cornwall VW Wedding Hire tries to offer exactly what you want and caters for your every need. Whether that be colour coordinated bows and ribbons or a specific drive around Falmouth to enjoy time out together, they can help.