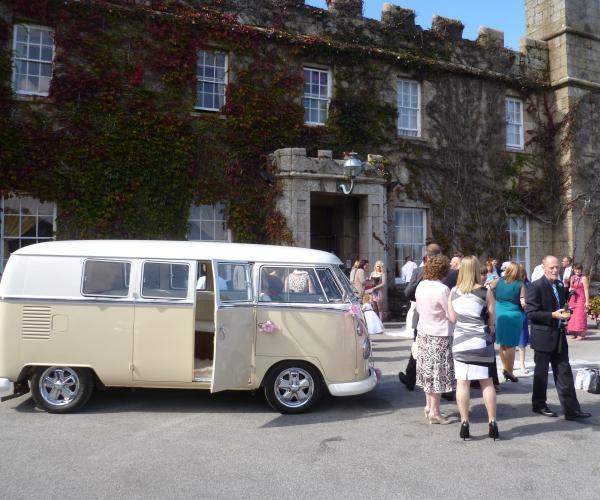 Cornwall VW Wedding Hire Testimonials
Cornwall VW Wedding Hire are proud of the high quality of service that we provide and we want to show you just a small sample of some of the great comments and feedback from our previous clients. Have a look below and these are not made up, we can prove our testimonials and that we provide a unique wedding car hire service in Cornwall to the highest quality standards!
"First of all can I thank you once again for all you did for us at Joe's Wedding. It wasn't just the service you provided but the way you did it in such a relaxed manner with nothing seeming to be too much trouble for you. As you probably noticed on the day the van was a great hit with everyone including myself, the majority talking about it for some days after."
Dave & Val Hall
"Just to say a massive thanks for making our wedding on the 15th August very special, the car was everything I hoped for and really made my new wife's day, Elli could not have been more helpful or accommodating. A massive thanks from both of us."
Jamie & Cheryl Rail
"We loved the car (and also had lots of comments on how great it looked!) and the service was fantastic. We would definitely recommend you and would like to say a big thank you to both you and the driver for being a part of helping our wedding day go smoothly. Many thanks once again."
Laura and Jody Trayte.
"Thank you, we got back from our Honeymoon a couple of days ago. I have discussed the car with Chantelle (who used it alot more than I did) and she said that the service was fantastic, the driver was really good, she helped Chantelle in and out of the car, planned some nice music whilst we were in the car and of course poured our Champagne. There is nothing we can think of to make the service better." We are very happy that we used Cornwall VW Wedding hire to help make our day special and would recommend them to anyone planning on getting married in the Cornwall area."
Chris
"Tim and Luisa got back at the weekend and I have forwarded your email to them but I wanted to say thank you for making it so incredibly easy to book the car and for the efficient and friendly service you offered. As parents we were DELIGHTED with the service."
With best wishes,
Bridget Postlethwaite
A quick word of thanks for your kind thoroughness and efficiency in supporting our big day. It was a great success from start to finish - and the wedding conveyance played a fine past in it all. Good wishes for further commercial success,"
Chris Craig.
"Hi Darren,
We were delighted with the car and the service you provided - it really was a perfect way to travel in style to and from our reception! I really don't think you could have done a better job and we will certainly have no hesitation in recommending you to our friends who are thinking of tying the knot!"
Clair and Bertie Scrase x