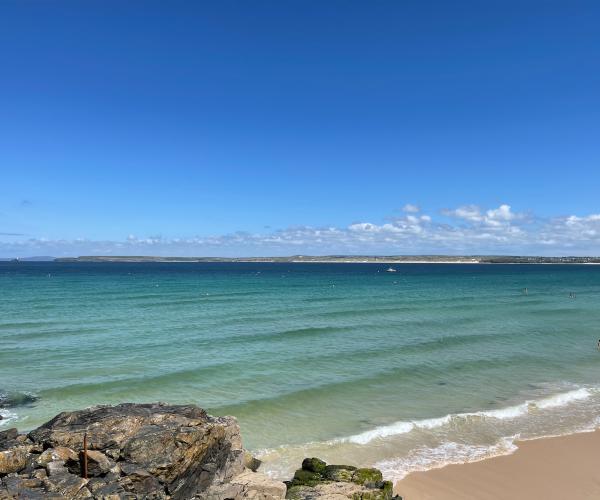 Wedding Car Hire at The Porthminster - St Ives Harbour Hotel & Spa
This stunning location overlooks the idyllic harbour of St Ives, Cornwall. Surrounded by fine sandy beaches with clear blue seas, this hotel can offer some of the greatest coastal experiences around. The St Ives Harbour Hotel & Spa is a truely magnificent location set in some of the most beautiful coastline in England. Recently refurbished the St Ives Harbour Hotel is perfectly positioned to arrive in style in a VW Wedding camper or VW beetle.
Take the opportunity to cruise through St Ives town with Cornwall VW Wedding Hire and cruise across the harbour in a classic VW wedding camper or beetle convertible. If you wish to go for a beetle you can go for a great scenic drive with the roof down and capture the moment on your wedding day. Alternatively you may prefer to accompany your bridesmaids and travel in one of their fine VW wedding campers, Romeo or Juliet, or both! This cream and red combination of campers are ideally suited to your every need. Whilst being able to listen to your favourite music you can go for a drive and feel famous as passer bys point you out and wave.
Perfectly positioned overlooking Porthminster beach, the St Ives Harbour Hotel & Spa is perfect for your wedding day. The great food, superb views and amazing location will provide that great wedding memory. As a wedding venue, this is up there as a great choice.
Cornwall VW Wedding Hire has a variety of wedding vehicles and can provide a tailor made service which compliments your every need on this fine day. Perfectly poised, Cornwall VW Wedding Hire, can take you for a cruise to and from this great location. If you want VW Camper wedding hire in Cornwall then look no further.